The Bernice Garden, its sculptures and artworks represent and reflect the spirit, nature and history of Arkansas.
Arkansans tend to be of hearty stock, people who can stand up to every extreme while retaining a sense of whimsy. The artwork and structures of The Bernice Garden reflect these qualities, adding unique and understated beauty to the mix. Reflecting the nature of Arkansas and Arkansans is a must for owner/creator Anita Davis
Another must is sustainability. Every plant, artwork and amenity has a sustainable or "green" aspect. The concrete patio was originally the foundation of a fast-food restaurant previously on the site. The sculptures and other artworks are made from reusable, recycled and sustainable materials, and the canopy and cistern were designed with green materials and constructed to have a low environmental impact.
The 100 ft. by 150 ft. garden consists of landscaped areas with crushed granite foundations for artworks. The concrete patio is covered with a striking sustainable, lighted canopy that catches rainwater and funnels it into a cistern. The collected rainwater sustains the native plants, herbs, ornamental grasses, and annual and perennial flowers that flourish on the grounds.
Other amenities include benches for visitors who want to reflect, relax and reconnect, and approximately 20 free, onsite parking spaces.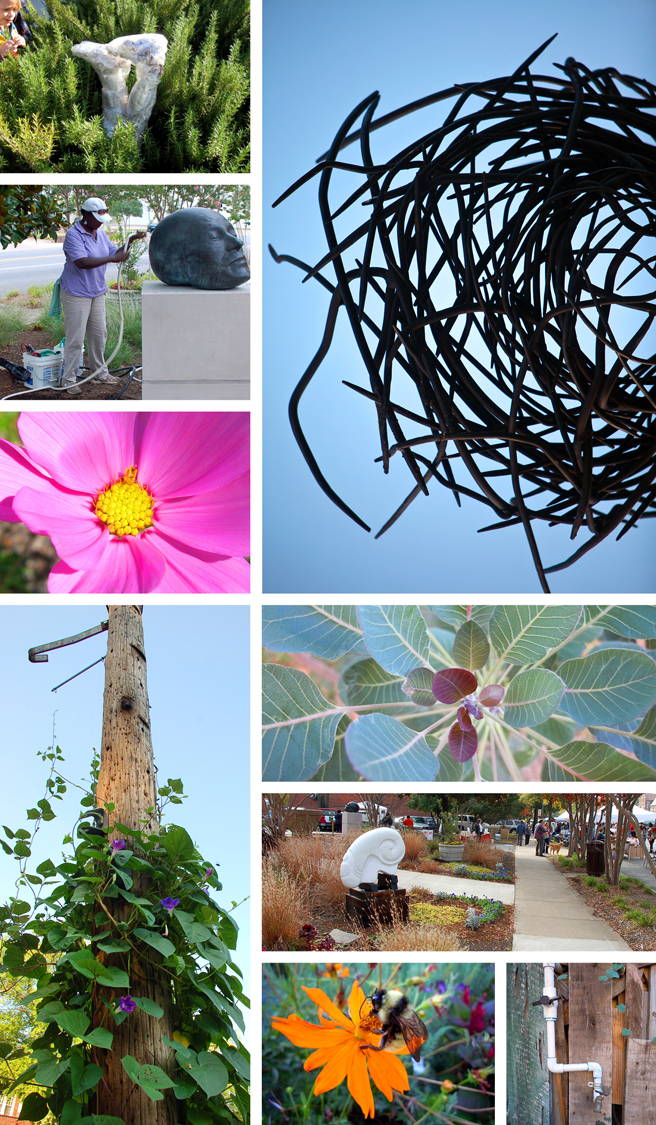 "The wild flower garden supports hundreds of dragonflies, butterflies and moths. We have flowers such as cosmos, rudbeckias, zinnias and bronze fennel, which is a host plant for the anise butterfly. The garden also has herbs such as rosemary and three to four varieties of lavender. The predominant plantings are ornamental grasses and there are also several varieties of day lilies."
­
— Adrienne Taylor
glass mulch transforms rubbish into jewels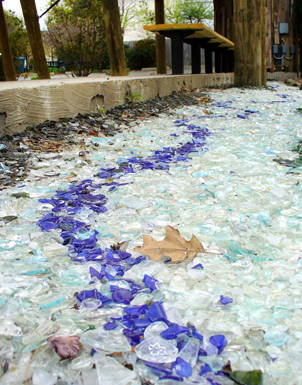 Anita Davis LLC commissioned a partnership between Greener Living Sustainable Solutions and GüsDesignCoop on a project specifically focused in landscaping and decorative elements utilizing glass recycling.
This sustainable project added glass mulch pathways and a countertop featuring the state of Arkansas at The Bernice Garden. Not only was recycled glass used for pathways, it also was incorporated in concrete bases and surfaces.
Brett Newman, owner of Greener Living Sustainable Solutions, and David Anderson, owner of GüsDesignCoop, focused on the planning and creation of these additions to the garden. Both companies are focused on creating alternative approaches to reusing materials to create an aesthetic that brings color to the landscape in any season. This alternative approach is the incorporation of recycled glass in building and landscaping at The Bernice Garden.
So why glass mulch? The glass is tumbled so it is not sharp. It is colorful and eye-catching during all seasons. And, in comparison to wood mulch, glass does not absorb moisture. This reduces water evaporation and prevents excess rotting for the benefit of the plant roots, thus protecting the plant.
Another benefit for glass recycling is mixing it in concrete, and you can find these features at the base of the limestone tables found at the garden. Although most of the countertops are finished with durable stainless steel, there is one unique feature to a table found at the west entrance – the state of Arkansas made from poured concrete and glass.
"I had the idea for making the top in the shape of Arkansas for quite some time and was stoked when David thought it sounded like a great idea. It was a collaborative effort as far as the design went, regarding color and topography," Newman said.
We at The Bernice Garden hope these elements are inspiring to Arkansans to start thinking of how they can utilize glass recycling in their projects. By recycling glass in this way, it keeps it out of our landfills and from making problems for generations to come. Come to The Bernice Garden and get inspired on how you can create the world you want utilizing recycled glass.